Curamando, Animal and Keybroker drive thousands of new users to digital learning platform
Background
As the Corona pandemic forced millions of children to stay at home, the Swedish company Komplementskolan opened up their digital learning platform (known as Studi in the Nordics and Binogi elsewhere), targeting students in grades 6-9.
Johan Beckmann, CMO at Komplementskolan, explains:
"During this trying time, we wanted to make sure that we did not lose sight of our key values. In order to do our part and help support students, teachers, and parents we opened registration to all users for a limited period of time. In many countries, students were required to stay home from school. We were hoping that, by making our content available to everyone, we could help bridge the gap and remove barriers to access to educational material."
Challenge
Binogi quickly needed help to accelerate their digital marketing efforts in Germany and Canada in order to reach out to students, teachers and parents looking for solutions and support during the challenging time when millions of students were required to stay home from school.
Johan Beckmann, CMO at Komplementskolan:
"Our target audience for our marketing efforts is normally our municipalities because they are our customers to whom we sell. Sales cycles are long and as a small sales-oriented company with limited resources, our digital presence and digital efforts have been minimal. But all of a sudden, things changed, our platform was free to use and our target shifted from selling to municipalities to acquiring as many users as possible into the platform. We quickly realized that we needed professional help to seize the opportunities we saw."
Solution
For six weeks, Curamando, Keybroker and Animal worked in a virtual team together with Binogi's central marketing team and local teams in Canada and Germany. The goal was to accelerate their digital marketing efforts and increase the number of users of the digital learning platform. The team actually never met in person while delivering this project, both due to the Coronavirus and for geographical reasons.
In a joint effort, Curamando, Animal and Keybroker delivered a marketing analysis, a digital campaign and communication guidelines.
During the project, several training sessions were conducted with the Binogi team to facilitate knowledge sharing. This was to provide the internal marketing team with the tools and knowledge needed to accelerate the digital marketing efforts for Binogi moving forward.
Result
The immediate result was thousands of new users signing up to the Binogi platform. Binogi Germany doubled its number of platform users and Binogi Canada, being a new player within digital learning in the country, increased its users tenfold.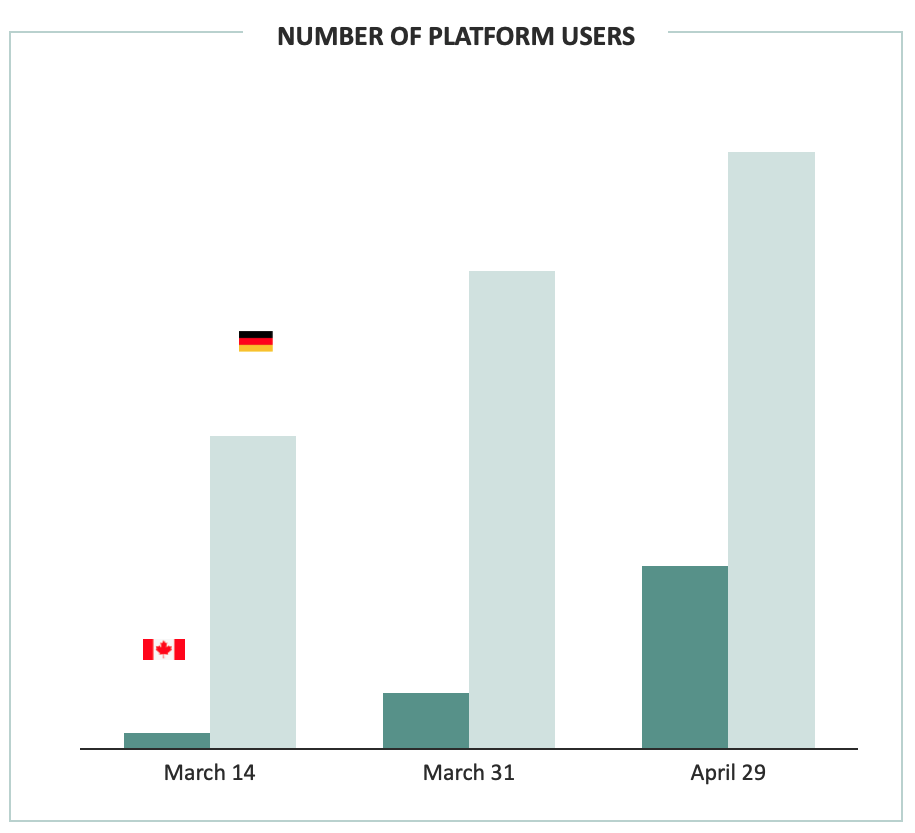 The project also resulted in:
Increased digital marketing skills within Binogi
A recommendation on how to organize digital marketing activities in the short term
Input on how the brand, digital presence and the digital marketing team should evolve and be organized long-term
Communication guidelines and recommendations on content creation and campaign planning
A new digital campaign dashboard and improved campaign tracking
Johan Beckmann, CMO at Komplementskolan:
"We are truly grateful for the work of Curamando, Keybroker and Animal. We could not have achieved this without them, and they delivered much more than was in the scope of the project. The dedication and passion to achieve something of high value in a very short amount of time shown by the consultants was very appreciated, just like the seamless coordination between Curamando, Keybroker and Animal that brought different competence into the project. The result was much more than we had expected!"
Would you like to read another client case? Follow this link and see how Curamando helped a large EU retailer transition into e-com.