G oogle Analytics is a well-known product to practically everyone with an online presence. The standard version is both free to use and extremely versatile, so it's no surprise that it has the largest market share by far among businesses of all sizes. There's also a paid version that is now being complemented with several new products to form a complete suite of data-crunching tools. 
Google already offers a high-end, paid version of Analytics aimed at "enterprise-class" customers (i.e. large companies) with the suffix Premium. This product is still available, but will be given a new name as a key part of the brand new Analytics 360 Suite.
For existing Premium customers, there will be no dramatic changes other than the rebranding and subsequent integration with the new products. However, in the longer term the Analytics 360 Suite offers new and interesting opportunities that might suit the most demanding users.
So What's New in the Analytics 360 Suite?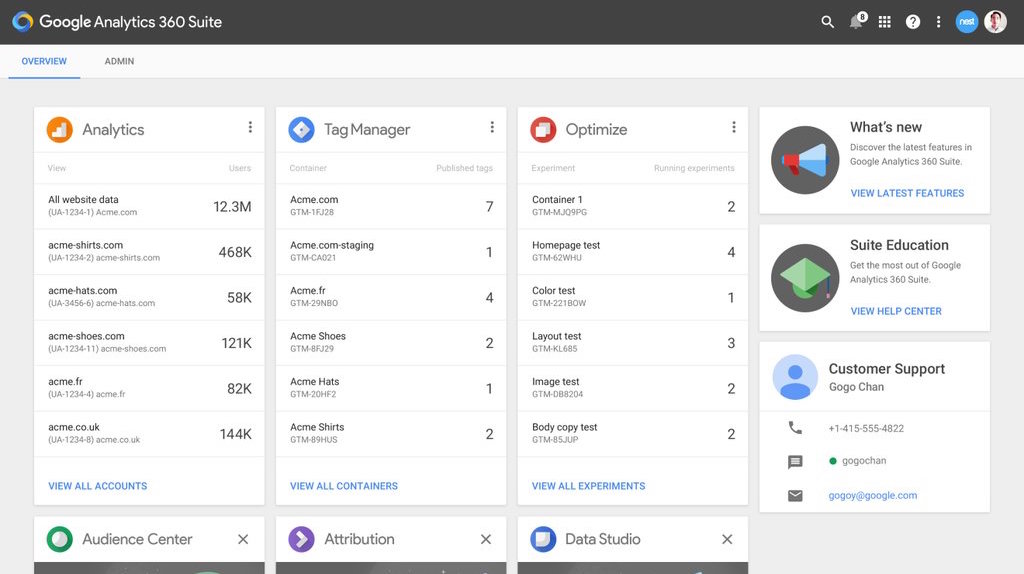 Quite a lot, actually! While Analytics 360 and Attribution 360 are rebranded versions of Analytics Premium and Google-owned Adometry, respectively, there are three all-new products in the Suite as well as an updated Tag Manager. In all, the 360 Suite includes six products – some of which can also be purchased separately:
Google Analytics 360: A new name for Google Analytics Premium, which continues to offer greatly enhanced functionality over the free version in terms of data processing limits and support.
Google Attribution 360: Replaces Adometry, but according to Google's announcement it has been "rebuilt from the ground up". Naturally, the tool still deals with attribution and aims to help you find the best performers across devices and channels.
Google Tag Manager 360: An update to the existing Tag Manager-feature that was previously built into Analytics.
Google Audience Center 360: An all-new product and Google's first DMP (Data Management Platform). As part of the 360 Suite, it of course integrates with Google and DoubleClick, but also third-party data and DSPs (Demand-Side Platforms).
Google Optimize 360: Another brand new product that challenges existing A/B testing solutions such as Optimizely.
Google Data Studio 360: Last but not least, the third new product Data Studio 360 is a tool for visualizing data and building nice-looking, interactive dashboards from all your data sources. It comes with sharing and collaboration features based on Google Docs.
As of now, the new products are still in a limited beta phase with an unspecified launch date "in the coming months". As previously mentioned, existing Adometry and Analytics Premium users will not be affected beyond the name change, but may be eligible to join the new product betas sooner rather than later.
Naturally, Curamando will follow the rollout of the full 360 Suite closely, not least via our dedicated Analytics 360 page (in Swedish). If you have any questions or concerns about the launch, don't hesitate to give us a call.